Orange peels, 3 ideas for how to use them in the kitchen
When you think of orange peels and fruit in general, you always think of a waste element. Instead, they can become valuable ingredients to be used in the kitchen. The important thing, however, is to choose untreated orange peels, such as "affogliato": oranges with leaves that we at 3moretti grow in the shadow of Etna.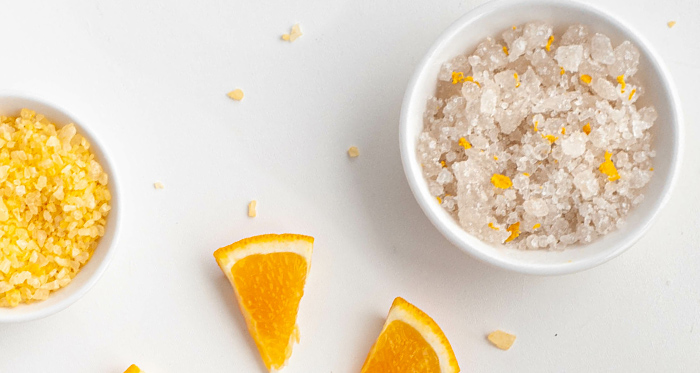 Orange-flavoured salt
An easy recipe is orange peel salt, a condiment that goes well with delicate fish, white meat and shellfish dishes.
To make it, you need the peel of two untreated oranges with wax and 400g of rock salt. Put the salt and orange peel in the blender and run it for a few minutes. The resulting mixture should be spread out on a baking tray and baked at 70°C for about 30/40 minutes.
The orange-flavoured salt can be stored in an airtight jar.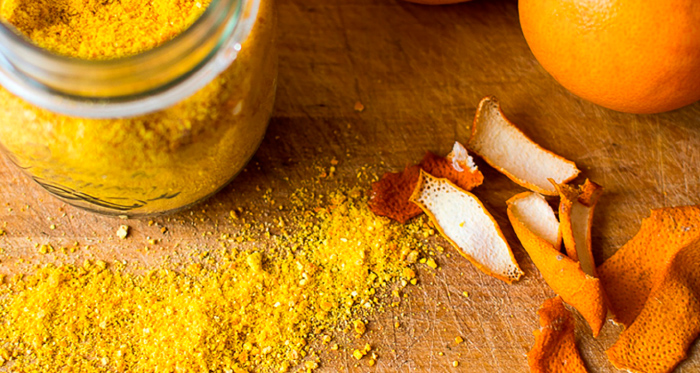 Frozen orange peels
When you have oranges that have not been treated with wax, it would be a shame to waste them. And if you have no way of using them at that moment, a practical and convenient solution is to freeze them. So, just take them out of the freezer when needed and use them in sweet pastries or to give a special touch to savoury dishes.
Preserving orange peels is easy: just grate the peel, perhaps keeping some of the white part, the albedo, and put it in small ice containers.
Do you know about the properties of albedo, the white part of citrus fruits?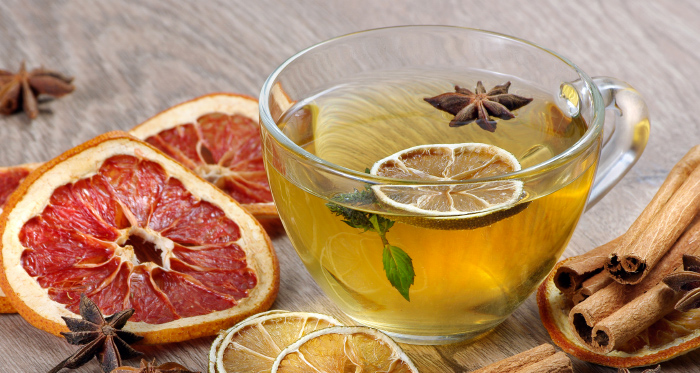 Herbal tea with orange peels, digestive and cleansing
Dried orange peels, obtained with a desiccator or left in the sun, are also ideal for preparing a herbal tea that stimulates digestion and helps to cleanse the body.
To enjoy a cup of this orange herbal tea, simply put a teaspoon of dried orange peel in hot water (about 250ml) and leave to infuse for 15 minutes. The liquid must then be strained to remove the peels and, if desired, sweetened with a teaspoon of honey.
This herbal tea can also be consumed cold for a refreshing break.
3 ideas for using orange peel at home
Orange peel is also an excellent ally for perfuming the home, cleaning certain surfaces, but also for adorning the home with simple decorations.
Here are some ideas on how to bring the taste and aroma of 3moretti oranges from the table into the home.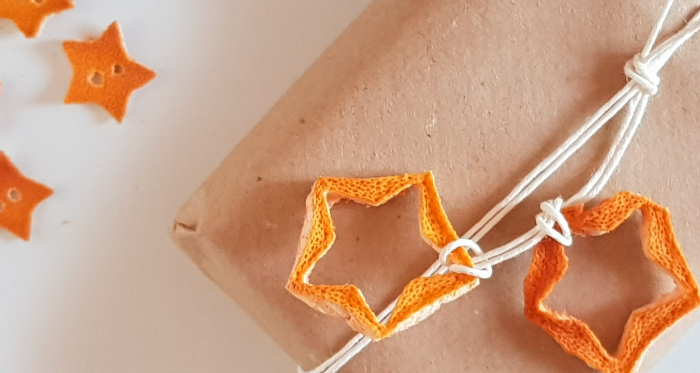 Not just Christmas decorations
Oranges and tangerines are fruits that are always a feature on Christmas tables. A good idea for how to make decorations is to use their peel.
Just be careful not to break the peel and, using small stencils, make lots of shapes. Using kitchen twine and a needle, you can make a pretty garland to hang on the Christmas tree, decorate the house or adorn gift boxes.
Not only does it look good, but the peels also give off their unmistakable aroma.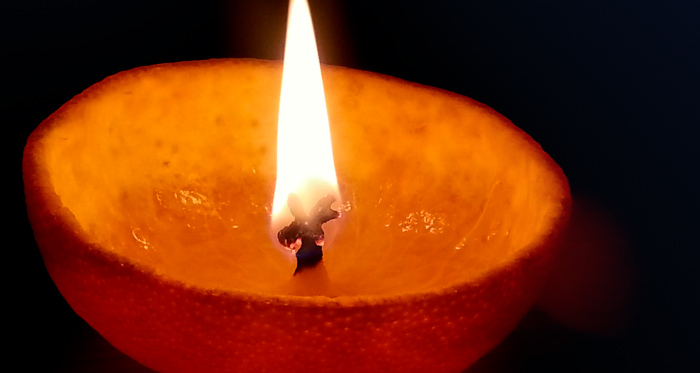 Quick and easy orange candles
Orange peels can be made into beautiful candles that will not only add a magical touch to the atmosphere in your home, but also fill it with a pleasant scent.
Making candles from orange peels is very simple. It is important to remove the pulp with a sharp knife, starting from the outside and taking care to leave the central stem intact to serve as a wick.
The best oranges for making candles are the Tarocco variety because they have a larger, stronger central stem. Once the pulp has been removed, the orange peels will form a cavity into which vegetable oil will be placed up to the level of the stem.
Simply light the wick and you can scent your home for hours.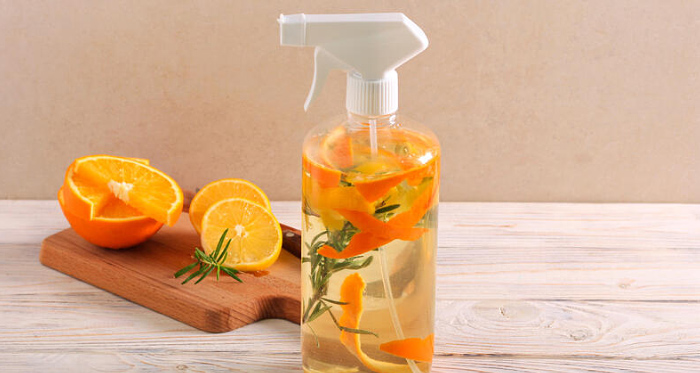 Eco-friendly and do-it-yourself detergent
Eco-friendly and do-it-yourself detergentEco-friendly and do-it-yourself detergent.
To make this "green" product, you need about 400 grams of orange peel, 300ml of white vinegar, 200 grams of fine sea salt and water, even tap water.
After the orange peels have been cut into small pieces, they should be put into a blender together with 400ml of water. The resulting liquid should be placed in a large pot with another 400ml of water, salt and vinegar. Wait 10 minutes after boiling.
The resulting cream will be ideal for cleaning dishes and cutlery, but also for cleaning the surfaces of the hob or sink.
Tags:
Citrus
Oranges
3moretti Oranges
Citrus Orange Fruit Peels
Use Orange Peels